SEPTEMBER
KIWANIS CLUB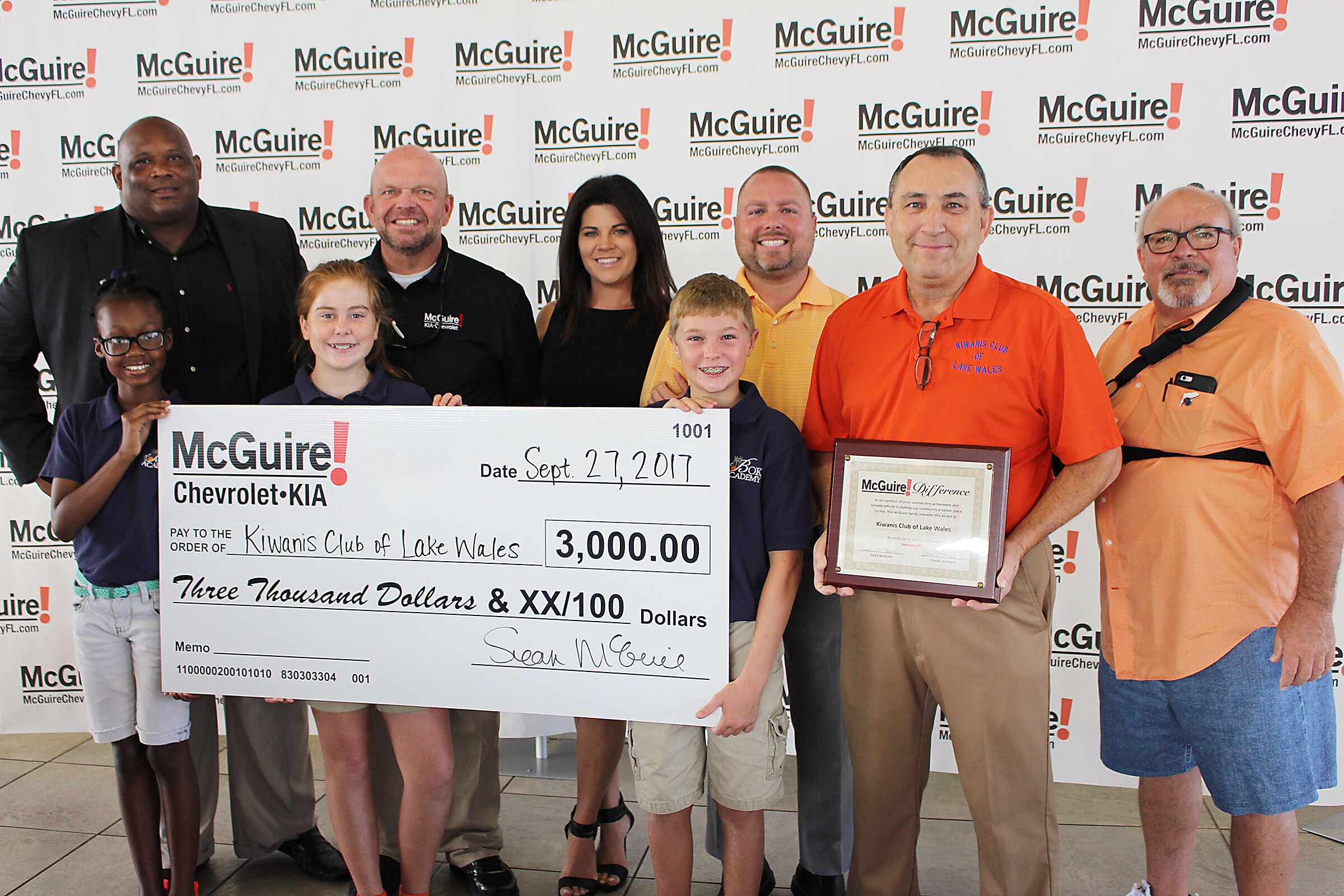 McGuire Difference Celebrates Community
The Lake Wales Kiwanis Foundation recently submitted an unusual request to the McGuire Difference Award. While the award is open to all local nonprofit organizations in the community, it is rare to receive an application from one nonprofit organization on behalf of another one - or two. That's exactly what Lake Wales Kiwanis Foundation did this month.
Instead of asking for a McGuire Difference Award for themselves or their own organization, which does good things in the community, the group instead requested funds to assist two other community organizations hit hard by Hurricane Irma. The unselfishness and kindness of this request touched the staff at McGuire Kia deeply and was the reason the September McGuire Difference Award was awarded to Bok Academy and Lake Wales Little League on behalf of the Lake Wales Kiwanis Foundation. "The entire staff was moved by this show of kindness and community," said Sarah McGuire. "The decision to honor all three organizations was unanimous among our staff and management on the McGuire Difference Committee. It's what we believe the community is all about - being there for one another," said McGuire.
Representatives from all three organizations were on hand recently to accept the September award and the $3000 check, which will be split equally between Bok Academy and Lake Wales little League to assist with their recovery efforts from the recent storms of September.
Each month, members of the McGuire staff meets to review the applications which have been submitted and select one non-profit organization to receive that month's recognition and $3,000 award. For the members of the McGuire staff, it's all about helping to make a positive difference in the community. For the recipients, it's an acknowledgment of their tireless efforts to do the same and a much-needed financial boost to help further their missions.  If you'd like to nominate a non-profit organization from Polk County for the McGuire Difference Award, please visit www.mcguirekia.com and click on the McGuire Difference tab.