SEPTEMBER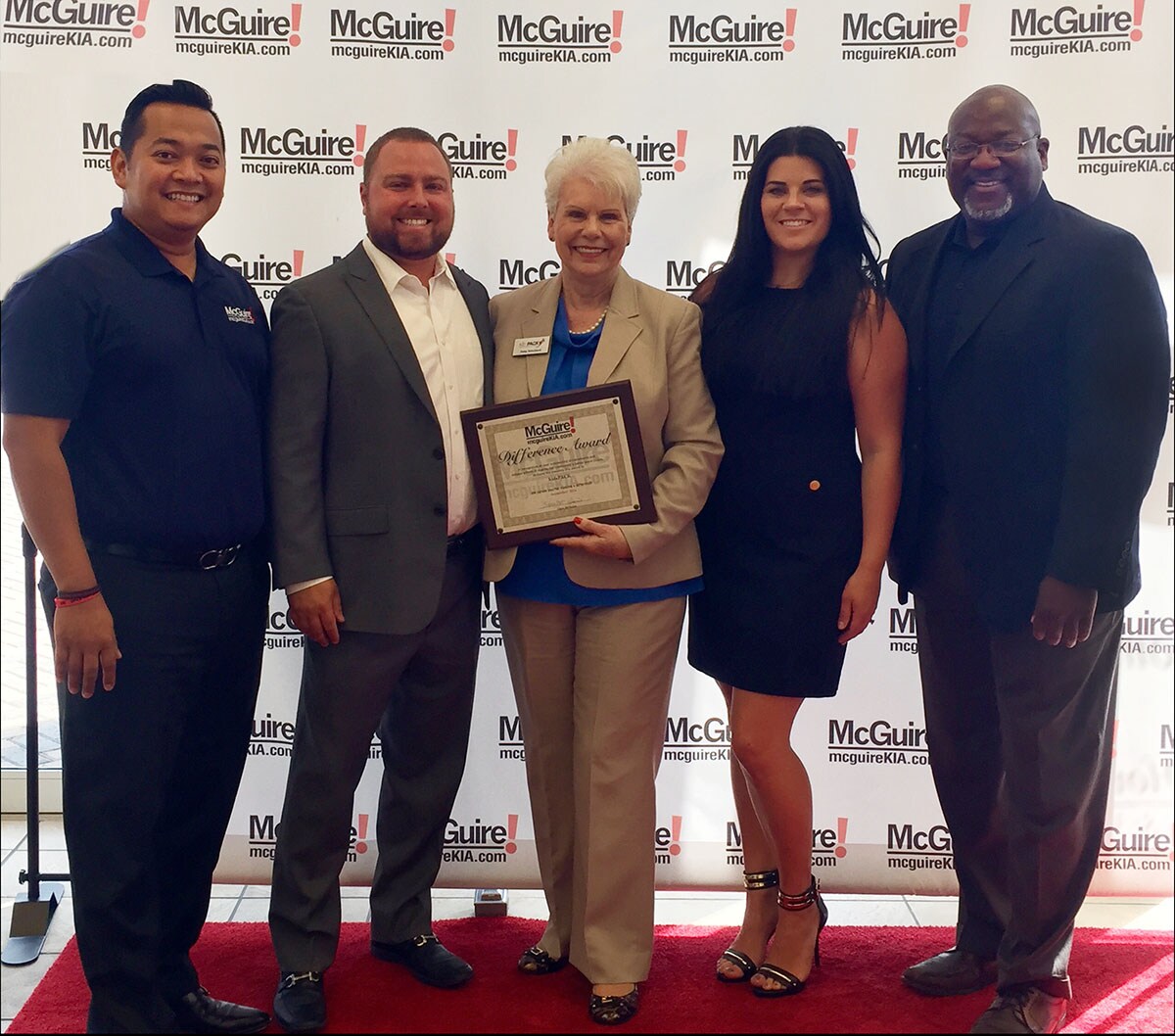 Photo: Members of the McGuire KIA team including Lloyd Leonardo, Sean McGuire, Sarah McGuire and Anthony Coleman are pictured with Patty Strickland, Executive Director from KidsPACK, Inc., 
McGuire Difference Teams up with KidsPACK
.
Every weekend, one hundred Polk County children leave school with a backpack filled with non-perishable food to help ensure that the child will not go hungry that weekend. KidsPACK's Just Feed Kids project targets elementary school children who have been identified as food insecure, meaning the family does not know where its next meal will be coming from. KidsPACK's Just Feed Kids Program fills backpacks with two breakfasts, two lunches and two dinners. The backpacks are sent home with children who have been identified by school administrators as homeless and food insecure. Every year, nearly 1,600 elementary school-aged children are served by kidsPACK each year. It is this quiet gesture of kindness and caring which helped earn KidsPACK, Inc. the September McGuire Difference Award.
Along with a plaque recognizing the non-profit organization and its contributions to the children of the community, KidsPACK also received a check for $2,000 from the McGuire Difference Award. The KidsPACK project started in Polk County in 2011 and has grown to serving children in 63 schools throughout Polk County. The program is collaborative and volunteer-driven, relying on volunteers from the community to prepare and pack food to sustain the children. Because the children assisted by the KidsPACK Project are provided with meals to keep them well-nourished through the weekend days when there are no school breakfasts or lunches available and it is most difficult for families in need to find feeding options in the community, the hope is that children will come to school prepared to learn and focus on school instead of on the grumbling tummy of hunger. Undernourished children are at much higher risk for absenteeism, poor academic performance, behavioral and attention issues, and lack of confidence in self and skill.
OCTOBER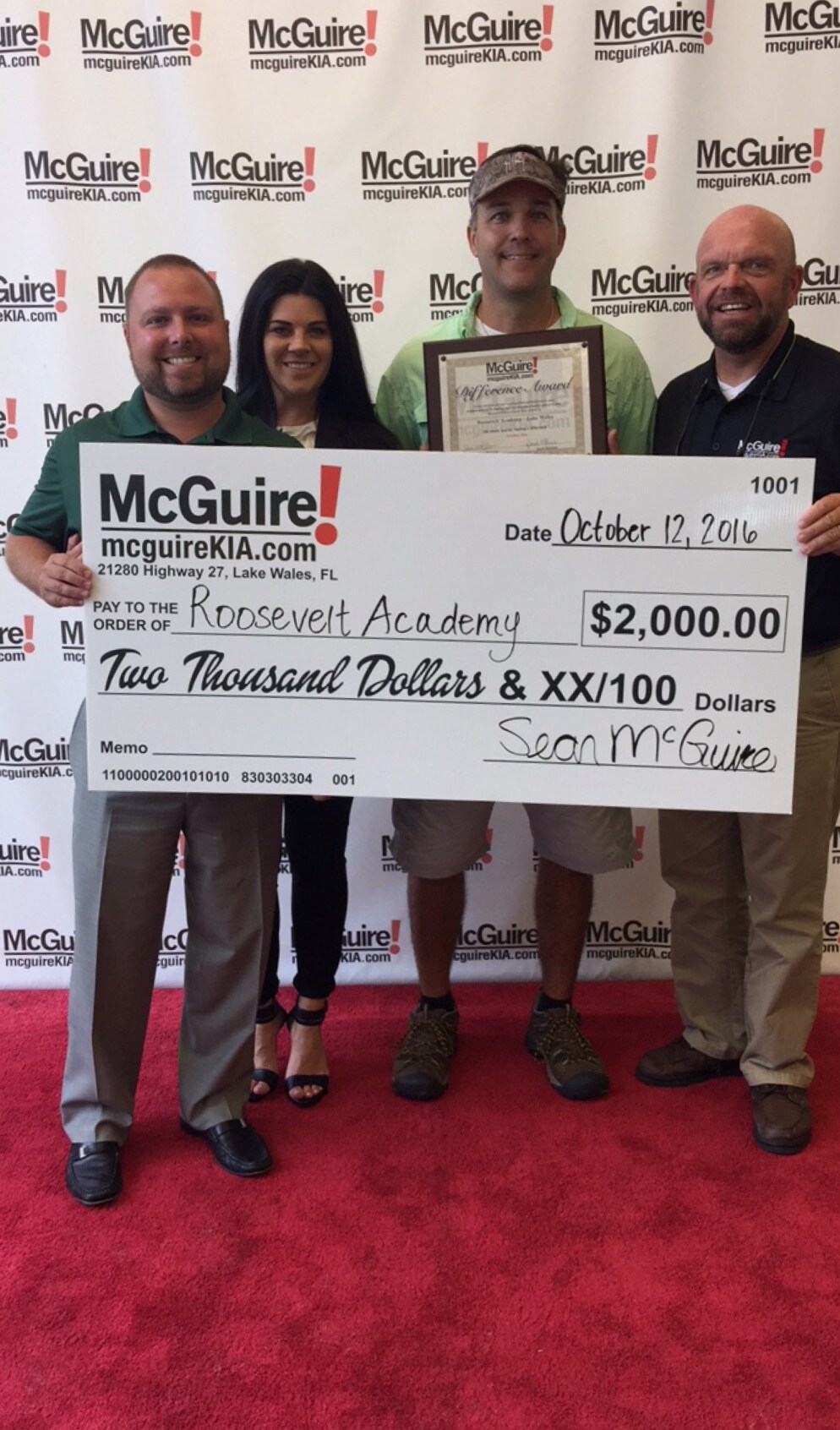 Photo: Members of the McGuire KIA team including Sean McGuire, Sarah McGuire and Jim Maggard are pictured with Ray Cruze, agriculture teacher from Roosevelt Academy, 
Roosevelt Academy Receives Award
 by Wendy Dwyer
Children learn so much by doing, and for students at Roosevelt Academy, learning is a hands-on, hands-wet proposition. That's because since 1995, agriculture students at Roosevelt Academy have been learning all about growing through hydroponic, aquaponics, and traditional row-crop gardening. The Academy, which is a public school for students in grades six through twelve with learning disabilities, have been managing all aspects of this ag-learning program, which includes seed to sowing and even maintenance. This holistic, hands-on, and diverse learning opportunity caught the attention of the committee members reviewing the McGuire Difference Award applications. The committee selected Roosevelt Academy as the recipient of the October McGuire Difference Award.
Along with a plaque recognizing the non-profit organization and its contributions to the children of the community, Roosevelt Academy also received a check for $2,000 from the McGuire Difference Award. Roosevelt Academy, which grows chemical free produce and markets its crops at the Lake Wales Care Center to help provide access to low-cost, high-nutrient, fresh vegetables, also provides and donates plants for the Lake Wales Pioneers' Days. The Academy also provides and staffs an educational booth at Bok Tower's Earth Day, which helps reach over 3,000 elementary school students annually.
NOVEMBER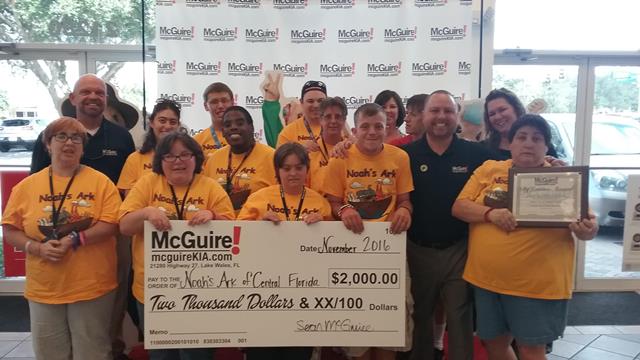 Award Helps Build Homes and Community
BY  Wendy Dwyer
The biblical story of Noah's Ark involves faith, a desire to help others, and tools to build something much bigger than one's self. And while it may not be biblical in proportion or theme, Noah's Ark of Central Florida committed to empowering individuals who have developmental disabilities. One way the non-profit organization does this is by building a village-style community of one, two, three, and four-bedroom homes designed to provide a home for individuals with special needs. Because of its dedication to advocating for individuals who cannot advocate for themselves, McGuire KIA selected Noah's Ark of Central Florida as the recipient of its November McGuire Difference Award.
Along with a plaque recognizing the non-profit organization and its contributions to the community, Noah's Ark of Central Florida also received a check for $2,000 from the McGuire Difference Award. In addition to creating homes and a community for individuals with developmental disabilities, the non-profit organization works tirelessly to provide life skills training, create social and recreational opportunities, transition individuals who may have been previously cared for by parents or siblings, and even find and train individuals for gainful employment in the community. The organization was created in 1997, when five families struggled with the question, "What will happen to our children when we are gone?" By working together and in collaboration with other community members, businesses, and organizations, the Villages of Noah's Landing -  a small but growing community - was created and now houses 128 residents. 
DECEMBER 2016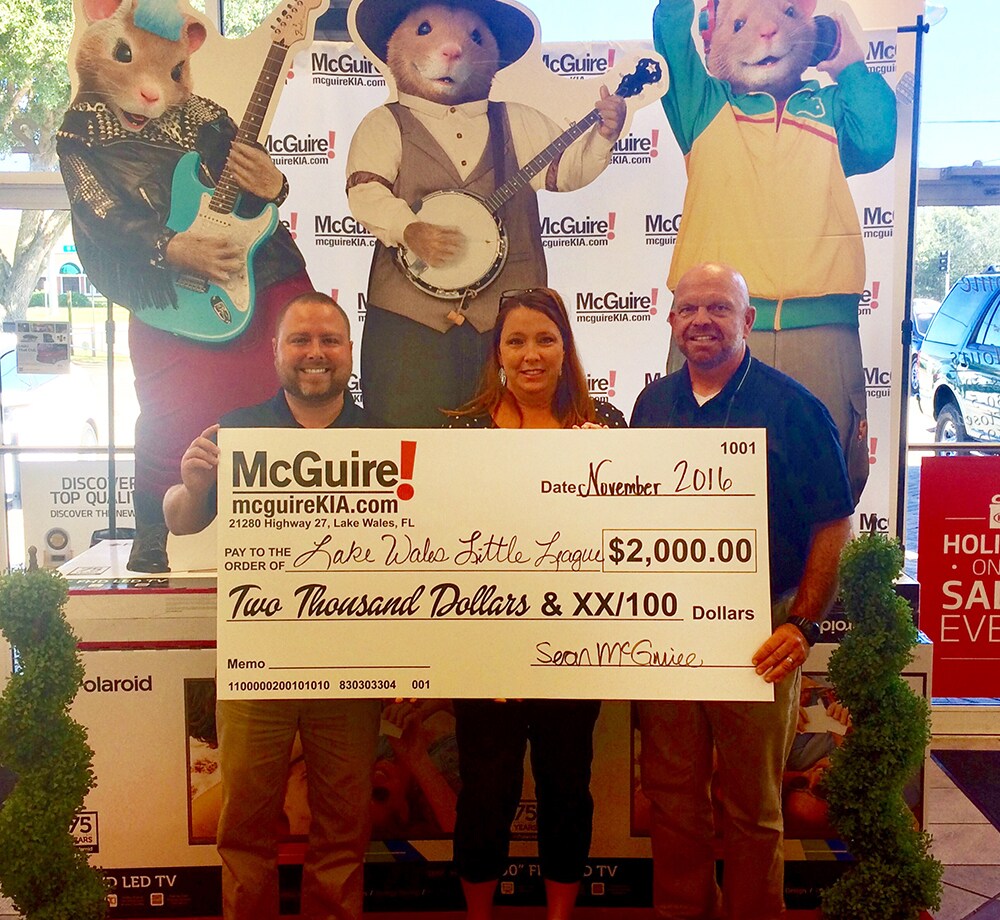 Play Ball with the McGuire Difference!
Everyone knows that baseball is as American as apple pie, but did you know it's also a game that teaches teamwork, coordination, character, strategy, strength, and how to cope under pressure, and how to deal gracefully with success and failure? Those are just a few of the things children learn through Lake Wales Little League, and those are just some of the reasons why the non-profit, all-volunteer organization was awarded the McGuire Difference award in December.
Up to 650 children per season participate as players through the Lake Wales Little League program, and nearly 3,000 siblings, parents, and grandparents come out to cheer on their little Babe Ruths and Mickey Mantles. Along with traditional Little League games and teams, Lake Wales Little League has its own Challenger League for children who face additional physical and emotional challenges, giving them the same outlet for their abundant energy and a way to gain all the strengths of teamwork, coping, coordination, and strategy which otherwise might not be available. And while the program is run exclusively by volunteers, there are equipment, signage, field caretaking, and uniform needs that need to be addressed. The McGuire Difference Award will assist with those costs and with providing scholarships for children whose families can't afford the uniforms and program fees. It's a home run for everyone in the community and something the McGuire Difference Committee was proud to support.
Each month, members of the McGuire KIA staff meets to review the applications which have been submitted and select one non-profit organization to receive that month's recognition and $2,000 award. For the members of the McGuire KIA staff, it's all about helping to make a positive difference in the community. For the recipients, it's an acknowledgement of their tireless efforts to do the same and a much-needed financial boost to help further their missions.  If you'd like to nominate a non-profit organization from Polk County for the McGuire Difference Award, please visit www.mcguirekia.com and click on the McGuire Difference tab.